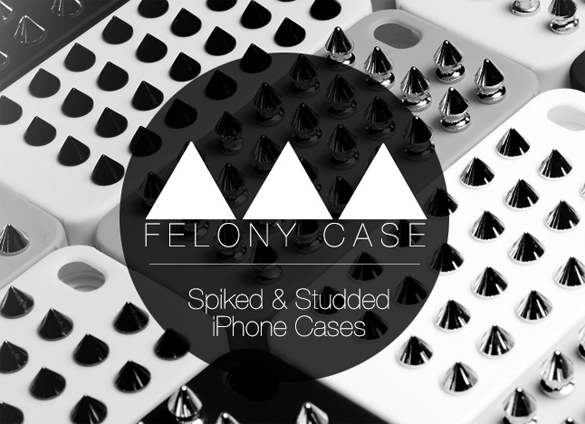 You can tell an idea is good if you wish you had come up with it yourself. This next brand is a good example of that. Lets start with the name of the brand, which i think is a very smart word play. The brand is called Felony Case, and they make spiked and studded iphone case (see the awesomeness here?) This iphone case looks freakin badass and it surely will upgrade every outfit you wear. One fascinating fact about Andrew, the founder of the brand, he is doing everything at Felony Case by himself. From handcrafting to marketing, i mean everything and he is just in his mid 20´s! Seriously he has a bright future ahead of him and im excited to see whats next! Thank you Andrew for doing the interview and we wish you all the success!:
1. Describe your brand with three words:
Luxury tech accessories
2. Tell us why your brand kicks ass:
A Felony Case speaks for itself – just look at them. The case could actually be used to kick ass.
3. Name one accessory you cant live without and why:
My iPhone, I'm always on it.
4.Fill in the blanks: When i was a kid… and now …
When I was a kid I blew all my money on shoes. Now I save it for a rainy day
5. What would be your last meal:
Probably some glazed & smoked pork chops with super fluffy mashed potatoes or scalloped potatoes, these beans with sliced almonds that my mom makes, broccoli with cheese sauce. Now I'm hungry.
Be sure to check out the online shop here